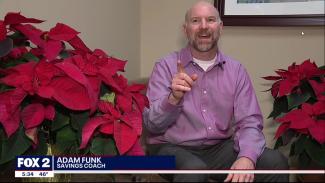 3 End of Year financial tips with Savings Coach on Fox 2 Detroit
3 end of year financial tips from the Savings Coach seen on Fox 2 Detroit: 
- Start your child's college fund UTMA account with the gains from this years stock market relief rally.
- The CARES Act allows up to $100,000 to be withdrawn from 401k's by Dec 31st. 
- Everyone gets a $300 tax deduction for charitable donations, in addition to the standard deduction most all of us get now, so please be charitable locally if you have the means. 
Call The Savings Coach if you have any questions with these tips.